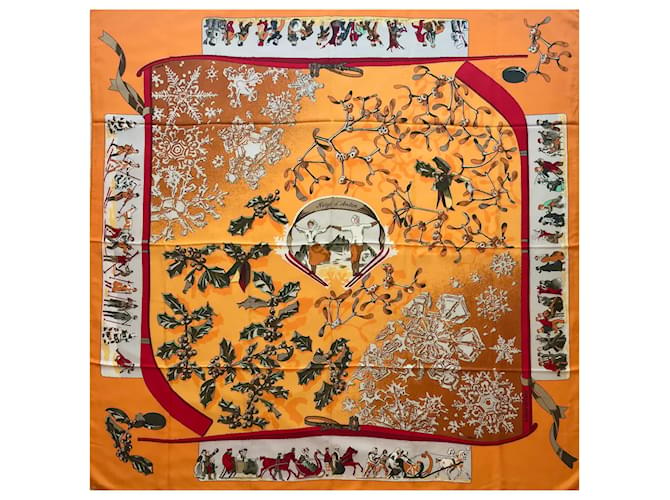 Description
Authenticity
Shipping
Returns
Payment
Hermès Collector Shawl: SNOW OF YESTERDAY Multiple colors
Hermès: Rare Shawl/Square model "Neige d'Antan" 140 x 140 cm.
65% cashmere & 35% soie.
Created by Cathy Latham in 1989. Will be re-released in multiple formats, matieres, and in detail.
The representative work of Cathy Latham would unanimously be "The Keys". But if we ask to quote his other illustrative squares, each answer would be different... Is it "Ferronnerie" or "Bolduc au Carré"? Or "Snow of Yesteryear"? One of the best-known and most sought-after scarves from Maison Hermès.
Living in Chamonix, at the foot of Mont Blanc, snow is a familiar motif for Cathy.
Right here, it is in undisguised joy that the couple of skiers punctures the center of the square, surrounded by holly, mistletoe and snow crystals with maybe Mont Blanc in the background? Their costumes bear no resemblance to the costumes worn today and take us back to a time long gone..
The border is inspired by turn-of-the-century Swiss postcards: touching scenes of children making snowmen, or sleds carrying the oldest for a winter ride that lets us imagine the joys of the mountain before the chairlift and the tanning cream. What nostalgia on this beautiful square!
Highly sought after and given its good age, it can only be in new condition, but still in very good condition. Collector's shawl par excellence. Very rare in this format.
Has his label.
...
...
...
...
...
Join the discussion
A question or a comment?