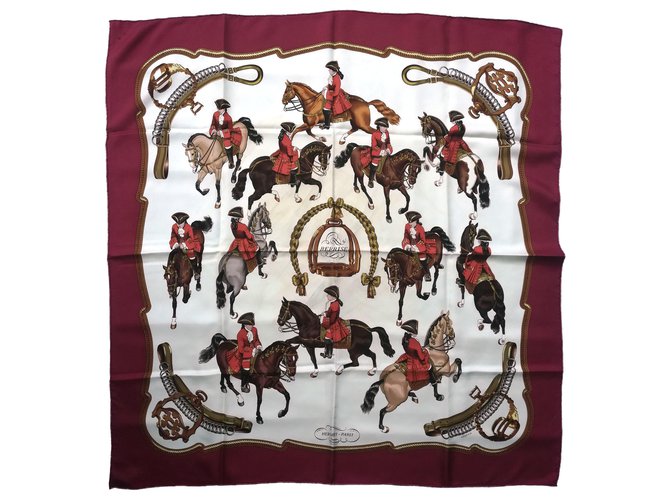 Description
Authenticity
Shipping
Returns
Payment
Hermès pink silk square "La Reprise" by Philippe Ledoux Brown Golden Grey Dark red Khaki Sand Coral
205€
Hermès silk square "La Reprise" by Philippe Ledoux
Brown, Coral, Khaki, sand, gray and gold silk scarf on an ivory background with burgundy borders. to this day, this Hermès square titled "La Reprise" signed Ledoux (Philippe Ledoux), is still as sought after since its first release in 1970. It is in very good condition, because the only small flaws are not visible once the scarf worn: micro stains but so barely visible that you have the impression of wearing a new scarf. If you still want to treat the scarf, you must tell the dry cleaners that it is a 100% silk item as specified on the label. With its original hand-rolled hem - 100% Silk - approximately Size: 90 x 90 cm For the little anecdote, Philippe Ledoux has left an indelible mark on Maison Hermès, in particular on Carré Hermès. He embodied both elegance and rudeness and possessed a great sense of humor and a generous spirit. enlisted by Robert Dumas in 1947 to design for Maison Hermès, Ledoux was born in 1903 in Great Britain to French parents. His incredible talents as an artist and illustrator are found in the 90 squares created for the Hermès house. He invests in creations on equestrian and naval themes, themes dear to Mr Dumas, which become among the most collected Hermès squares such as "Springs", "La Reprise" and "La Promenade de Longchamps". His art will live on, whether in a book or a magazine, or better yet, in a pretty Hermès scarf.
...
...
...
...
...
Join the discussion
A question or a comment?