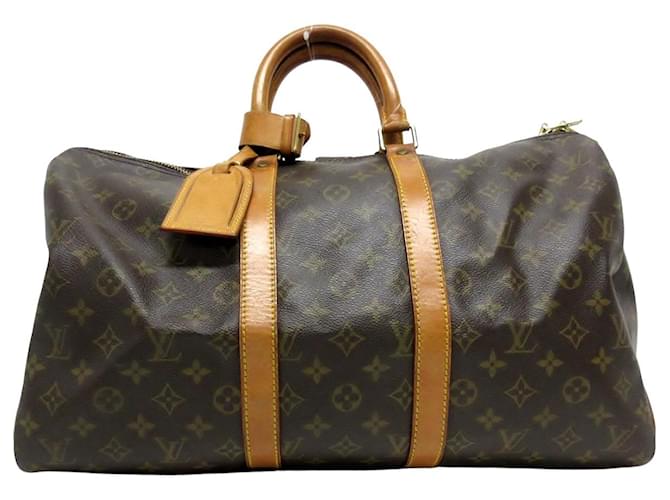 Description

Authenticity

Shipping

Returns

Payment
Louis Vuitton Keepall 45 Brown
BRAND: Louis Vuitton
model: keepall 45
color: Brown
Material: Canvas
Inclusions: Name tag
DIMENSIONS: Height ⇒ 27cm Width ⇒ 45cm Depth => 20cm Length from the handle to the main body ⇒ 11 cm .
Serial number: SP0972
Country of origin: France
Retail price: 2100,00€
Condition: B - good condition.
This item is a Boston bag in the category of "Boston Bags". It is from the brand LOUIS VUITTON and has the product name "Keepall 45". This bag is the smallest size in the Keepall line, which is a classic travel bag from Louis Vuitton. It is suitable for anyone regardless of age or gender. The bag is well-made and provides ample storage space for clothing and other items.
The bag does not have any dividers, external pockets, or internal pockets. It is made of Monogram canvas material.
In terms of condition, the overall exterior of the bag shows noticeable deformation. There are slight rubbing marks and some small stains on the bottom corners. There are also some small stains on the front and back of the bag. The handles show slight rubbing. The main opening has slight rubbing on the corners. On the inside, there are small dirt stains overall.
We recommend that you look at all the pictures before making your purchase to ensure that you are satisfied with the condition of the item.

...
...
...
...
...