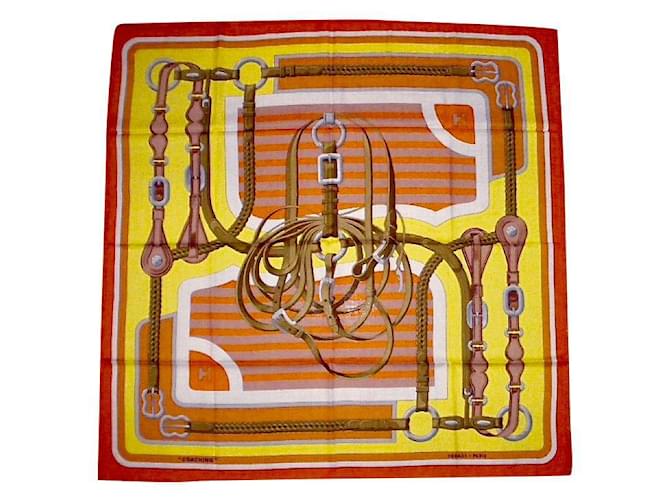 Description
Authenticity
Shipping
Returns
Payment
Hermès COACHING (Rare Cashmere & Silk in 90cm) Multiple colors
Magnificent and rare collector's square in 65% CASHMERE AND 35% soie, titled "Coaching"
Created by Julia Abadie in 1976/77. Reissue in 65% CASHMERE AND 35% soie.
This "Coaching" square is made up of different elements participating in the horse's harness. It illustrates the first activity of Hermès, "harnesser-bridle maker" and the world of elegant harnessing in which the House has distinguished itself.
In the top right bottom left corners, the blankets that are thrown at the horses after the exercise or the race, to avoid their cooling. In the 17th century, the Coaches were imposing vehicles, kinds of coaches diligences, who carried passengers and luggage. Towards 1784 came the English postal cars, Mail Coaches that disappeared to 1848, with the advent of the railroad. During the Golden Age of the Coaches, a keen taste for the art of driving a four-horse team, manifested itself in the entourage of the Prince of Wales, future king George IV.
From the beginning of the 19th century, the aristocracy's young men created very closed clubs for this practice and had the private replicas of these cars built for private use: the Private Coaches or Drags were born, serving mostly to parade at all social gatherings. But the practice of this extraordinary sport has long been perpetuated because it requires the mastery of four horses at the same time. To lead, the driver has at his disposal only the long reins, without benefit of the action of his legs, as the rider. For this sport, horses are hitched to stretchers, with collar harnesses composed of bridles, Necklaces, cinch, carapace, reins and brake nets.
neuf. fringed finish (can be seen on photos).
versatile and mixed, it can be the subject of a superb gift.
...
...
...
...
...
Join the discussion
A question or a comment?