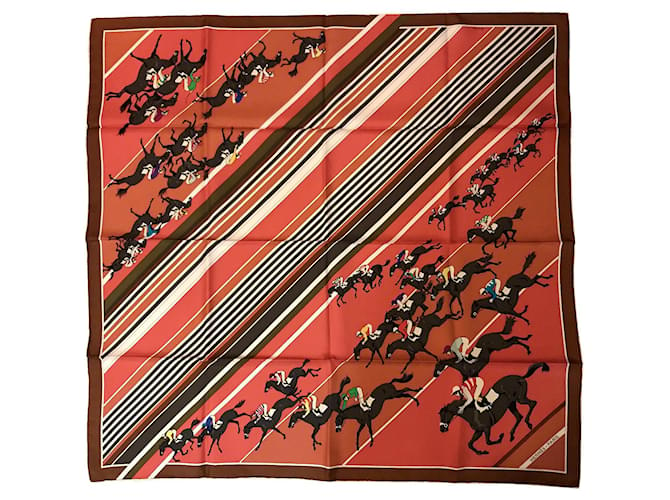 Description
Authenticity
Shipping
Returns
Payment
Hermès Groceries Multiple colors
Hermès: superb collection scarf titled "Les Courses"
Drawing by Yves Benoist Gironière 2013/2014
The dynamics of the diagonals! The speed is almost palpable. An angle for departure, another for the arrival. From the first impulse, the heart beats wildly, the animal springs, the rider appears connected to him only by the reins and stirrups. Stalls at the finish line, the same energy animates the man and his mount, an apparent lightness made of power, of connivance and technique. Everyone knows without a shadow of a doubt the reactions of the other, the two intelligences join in the same instinct.
The craze for horse racing, appreciated since Antiquity, experienced over time some fluctuations. It's in the 17th century, in France and England, that these tests, as they unfold nowadays, are developing little by little. Racecourses multiply in the next century, and we now know the presupper of the Prix de l'Arc de Triomphe which is running in Paris, or Epsom Derby in Surrey County, in England.
Square with perfectly mixed graphics.
A wonder in any season that can be a great gift!
...
...
...
...
...
Join the discussion
A question or a comment?